(Qty 2) Medium Duty Truck Hino Universal Locking Fuel Cap Cover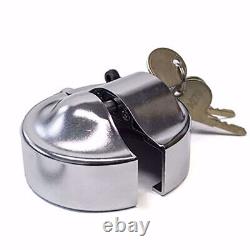 (Qty 2) Medium Duty Truck - Hino Universal Locking Fuel Cap Cover. This cover is for box-truck sized vehicles. DOES NOT FIT Class 8-sized Semi Trucks. DOES NOT FIT REGULAR SIZED CARS OR TRUCKS. This locking fuel cap cover protects against fuel theft and contamination.
The cover fits over your existing fuel cap and features. May be transferred between vehicles. Cap cover spins freely when locked.
Made from Zamak5 Zinc Alloy. Designed for heavy-duty Class 8 trucks, this cover may fit other vehicles based on existing fuel cap dimensions. Cover Dimensions: ID 3 5/16" x 1 7/16" (H). One cover fits all 2", 2.25", 2.375" and 2.5" caps.
Adapter bearings included for smaller caps. We want to make sure you get the locking fuel cap cover that fits your truck!
M2 Business Class: 2002 - Current. DOES NOT FIT ANY OTHER FREIGHTLINER.
John Deere (Oil Dipstick Cap Cover). You can also find a full list of known trucks this locking fuel cap fits under the "Fits These Trucks" tab. Our specially designed locking fuel caps are designed to protect your truck. This particular fuel cap is specifically designed to fit the Freightliner M2 as well as select Hino and International trucks.
This locking fuel cap also fits all Reefer truck models, transfer tanks, and many medium-duty trucks and box trucks. All of our locking fuel caps are made from a strong zinc alloy that freely spins on top of your existing cap to keep your fuel safe and secure. Our easy to install locking fuel caps are equipped with a spring mechanism to make application and removal quick and simple. Today with any questions about any of our locking fuel cap covers!