Dee Zee DZ11992 Brite-Tread Wrap Side Bed Caps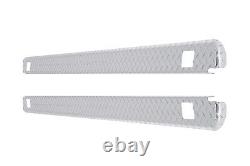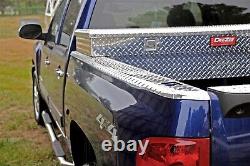 Dee Zee DZ11992 Brite-Tread Wrap Side Bed Caps. Truck Bed Side Rail Protector. Brite-Tread Wrap Side Bed Caps. Corner Wrap: With Out Corner Wrap. WARNING CA Proposition 65: Yes. WARNING CA Proposition 65 Message: State of California Consumers - Warning: Cancer and Reproductive Harm. Dee Zee Wrap Side Bed Caps - Protects the top edge of your trucks bed rails. Made from heavy gauge Brite-Tread Aluminum for classic styling and design. The custom fitting application specific to your make and model wraps the rear corners of the bed for maximum protection. Custom punched holes to allow the use of your trucks stake pockets. LIFE should not be a hassle. Dee Zee strives to offer products that make your truck or SUV fit the way you live your LIFE. Our steps (Running Boards and Nerf Steps) make it easier to get in and out of your vehicle.
Our Tool Boxes give you extra lockable storage, and our Floor Mats help keep your carpet cleaner. Personalize your vehicle to fit your needs and your LIFE. Dee Zee is here to Add More LIFE to Your Truck.
Innovation is under the roof at Dee Zee. With various facilities to house robotics, various machines and to accommodate production processes, Dee Zee is equip to set trends in the market. From tool and die, stamping, production and finishing processes, Dee Zee has the technology to cut costs and adapt to the market needs. How can Dee Zee processes help your business? Dee Zee was among the first to offer factory controlled powder-coat protection to their aluminum products. Whether the coating is clear or black, the powder-coat finish prevents oxidation on the material and guarantees the ease of soap and water cleaning. Dee Zee has the ability to put some materials through an in-house vacuum metallization process. A very thin layer of metal is applied to the desired surface to produce a brilliant shine.
Dee Zee uses this process primarily on racing wheels, but can be used on several types of products due to the range of colors it can produce. When Dee Zee is in need of a new machine or die, they don't have to look far. Dee Zee operates Tool and Die facility to produce in-house machines, CNC machining programs, and die castings.
Dee Zee also operates a stamping facility with various presses to produce complex die stampings. The uses of robotics in Dee Zee facilities provide accuracy and efficiency. With over 20+ years of experience in the automotive industry and in business since 2004, we strive to provide you with the best products and customer service.
Our strong relationship with manufacturers and suppliers allows us to get you the parts you want fast and at the best prices possible. Most e-mails are answered within 24 hours, including weekends and holidays. Processing begins as soon as an order has been placed, therefore we cannot change, cancel or modify orders once they have been confirmed.