Complete Chrome Hub Cap & 33mm Lug Nut Covers Kit for One Truck TRUX THUB-C2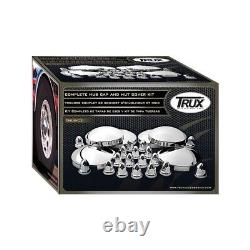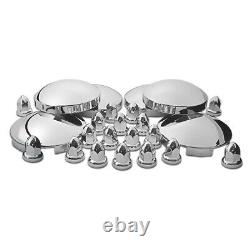 COMPLETE CHROME HUB CAP & CHROME ABS PLASTIC NUT COVER KIT. Outfit a complete truck with ONE Box. Nut Covers manufactured with High Quality ABS Chrome Plastic.
Front Hub Caps Fit 4, 5, or 6 uneven notch hubs. Universal Fit for all Truck Makes & Models. High Impact, Light weight and Flexible.
Fits Most 20", 22.5" & 24.5" Wheels - 11.25" Bolt Spacing.