3 Row Radiator+Shroud Fan For 1947-1954 48 Chevy 3100 3600 3800 C/K Pickup Truck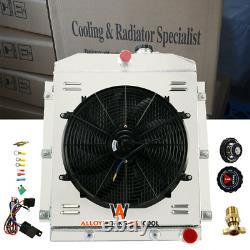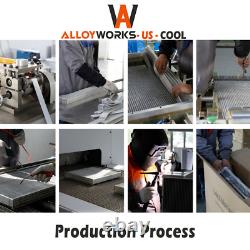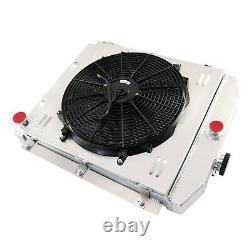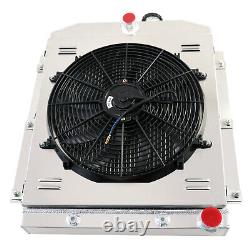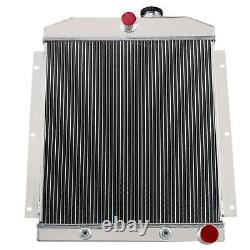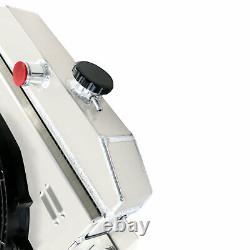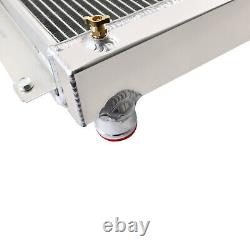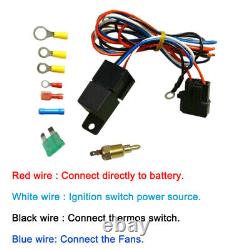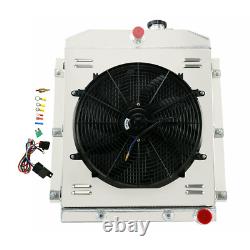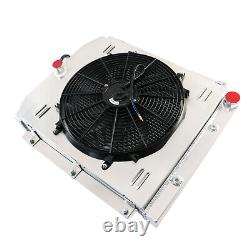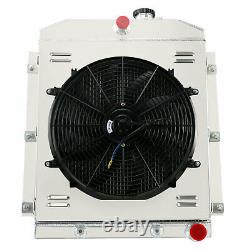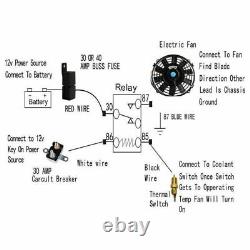 Aluminum Radiator 1 X CNC Machined Radiator Cap. 1 X 16 Fans (Includes mounting kits). 1 X Thermostat Relay Kit. Of tubes Core Racing Design. Tank Material: AA5052 Aircraft Grade Aluminum. Surface Finish: Aircraft Grade Raw Aluminum. Core Size : 20 3/4" tall x 19 1/4" wide. Overall Size : 26 3/4" HIGH X 23" WIDE. Inlet Hose Connection : 1 1/2 Center. Outlet Hose Connection : 1 3/4 Passenger Side.
OEM Style Brass Petcoke Drain. CNC machined filler neck and cap. Diameter: 16'' (Blade to Blade).
Maximum Fan CFM (Cubic Feet per Minute): 2150 cfm. Maximum Fan RPM Revolution (s) Per Minute: 2,250 rpm. Our electric fan has a. R, they are usually assembled by the straight blades, it is cheaper and poor-quality and easy to get broken. Electric motor to provide strong power and high rotation speed. S Blade pull push design, to make air flow more efficient and bring more cooling Effect. Lightweight and thin volume design, not only to save more engine bay space and also looks very well. Provide extra temperature relay switch. 180'F turn-on temperature, 165'F turn-off temperature.
The Advantage of our Radiator. Our Radiator is made of. It's different from other sellers T-3303 Series.
Series Aluminum is much better than T-3303 series. More than 90% of aftermarket manufacturers use the T-3303 series Aluminum, because it is cheaper and easier to get the material. However, T-3303 aluminum has many disadvantages, such as poor polishing effect, softness, easiness to scratch and corrode, poor heat dissipation effect. If the T-3303 aluminum radiator is operated in high pressure and high temperature for a long time, the leaking problem would occur very soon.
Aluminum is an Al-Mg alloy with good corrosion resistance, excellent reliability and cold workability and strength. The main alloying element of AA5052 is magnesium, which has good forming and processing properties. Aluminum Radiator is designed to provide maximum cooling efficiency to prevent premature engine failure. Its light-weight, and high-heat transferring aluminum features a tube and fin design that, dramatically increases surface area that enables the heat to dissipate more efficiently.
Aluminum Radiator is at least 30%-45% more efficient than stock ones. Most importantly, it has a much higher capacity for coolant than stock ones, which means that your cooling system will be more efficient and will be more resistant to temperature surges in racing applications. Grade aluminum for prolonged lifespanand with raw aluminum finish. Brazed core technology to guarantee optimum performance and dependability.
Aluminum 2mm thick tanks and fittings, Ensure it's hard and durable. Billet Aluminum CNC machined fill neck rugged and durable. Ergonomic design CNC machined cap with Engraved craftsmanship, anodized treatment. Carefully crafted to exceptional OE standards for precise fit.
The New Design fan and the. Fan shroud effectively drive the heat over and out the engine compartment rather than thrusting it into the front of the engine. The fan shroud basically houses the fan blades securing it in place and keeping it from damaging the other engine components that may disturb the smooth and even operation of the engine. With excellent operating temperature management, allowable levels of engine temperature are stabilized. Investing in proper maintenance though will considerably benefit the ride and driving quality in maintaining the ideal working conditions of the engine.
Fan shroud to guaranteed airflow passes high efficiently. Make your engine bay perfect!
S blade fans, Push or Pull Type design, lightweight Plastic Durable Material. Additional with thermostat, professional matching advice, consider for every detail and needed.
Have a professional R&D team. We have our own brand.
Our Radiator is designed to be identical to many factory units of OEMs. It offers affordable replacement that does not compromise quality and performance.
Please verify that this address is the correct one you wish to have your package sent to. Alloyworks-us-cool radiator is a performance aftermarket car parts company providing a variety of aluminum radiator for all sorts of makes and models. Shop with us with confidence you would be receiving the best quality products for the value.
No matter if it's for a car or truck we have exactly what you're looking for!